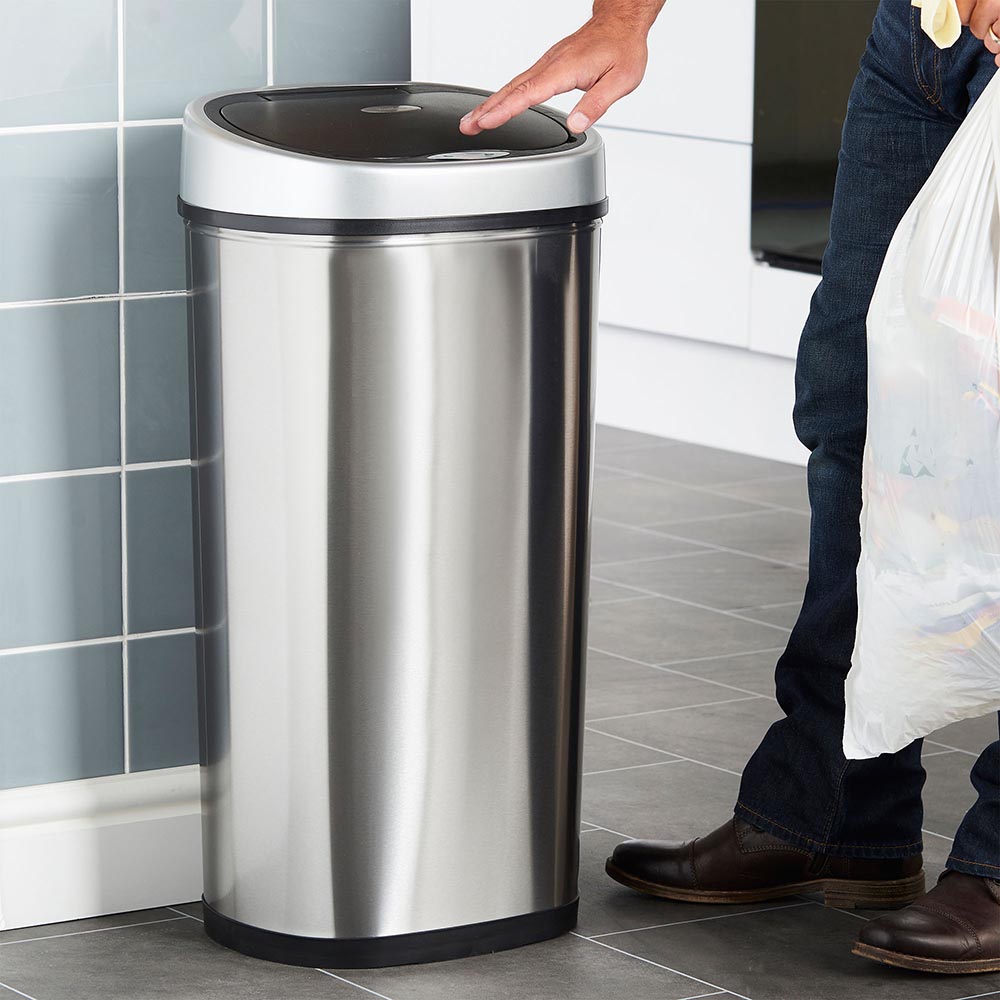 50L Sensor Bin - Stainless Steel
---
SKU: 07-713
Size: 37 (L) x 30 (W) x 73 (H) cm
Powered by 3 x 1.5V 'D' Batteries (not included).
Great for kitchens as well as bathrooms, garages and offices.
Easy to use with on/off switch to the rear (which is great for preventing pets accidentally operating the bin whilst you're out).
As there's no inner bucket, the bin is lightweight as well as easy to clean. Both the lid and press ring are removable.
Press ring grips bin liners firmly to prevent slipping and enable fuss-free bag changing.
Designed with the contemporary kitchen in mind, the bin features a sleek yet extremely robust non-corrosive Stainless Steel body. Fingerprint resistant finish resists smudges to keep your bin looking nice and shiny.
Generous 50L capacity offers plenty of space for your waste disposal requirements – great for single occupancy households and busy family homes alike.
Equipped with an LED Infrared Sensor which activates when the hand is 40cm away from the lid. Simply wave your hand over the lid to activate the sensor; the lid will close automatically and softly after 5 seconds of inactivity to help to stop nasty odours escaping. If you prefer, you can operate the bin manually using the 'open' and 'close' buttons.
A hygienic and convenient addition to your kitchen, the Sensor Bin will come in extra-handy when you need both hands free to scrape leftovers off your plate or chopping board. The bin also eliminates the need to touch grimy and potentially germ ridden surfaces.
Change the way you get rid of rubbish with the innovative and stylish VonHaus 50L Sensor Bin.
LED Infrared Sensor opens and closes the lid automatically
Large 50L capacity – ideal for small and busy households alike.
Features press ring for a tight grip on bin liners and fuss-free removal
Robust non-corrosive Stainless Steel body with fingerprint resistant finish
Easy to use with on/ off button. Also operates manually.
Powered by 3 x 1.5V 'D' Batteries (not included)