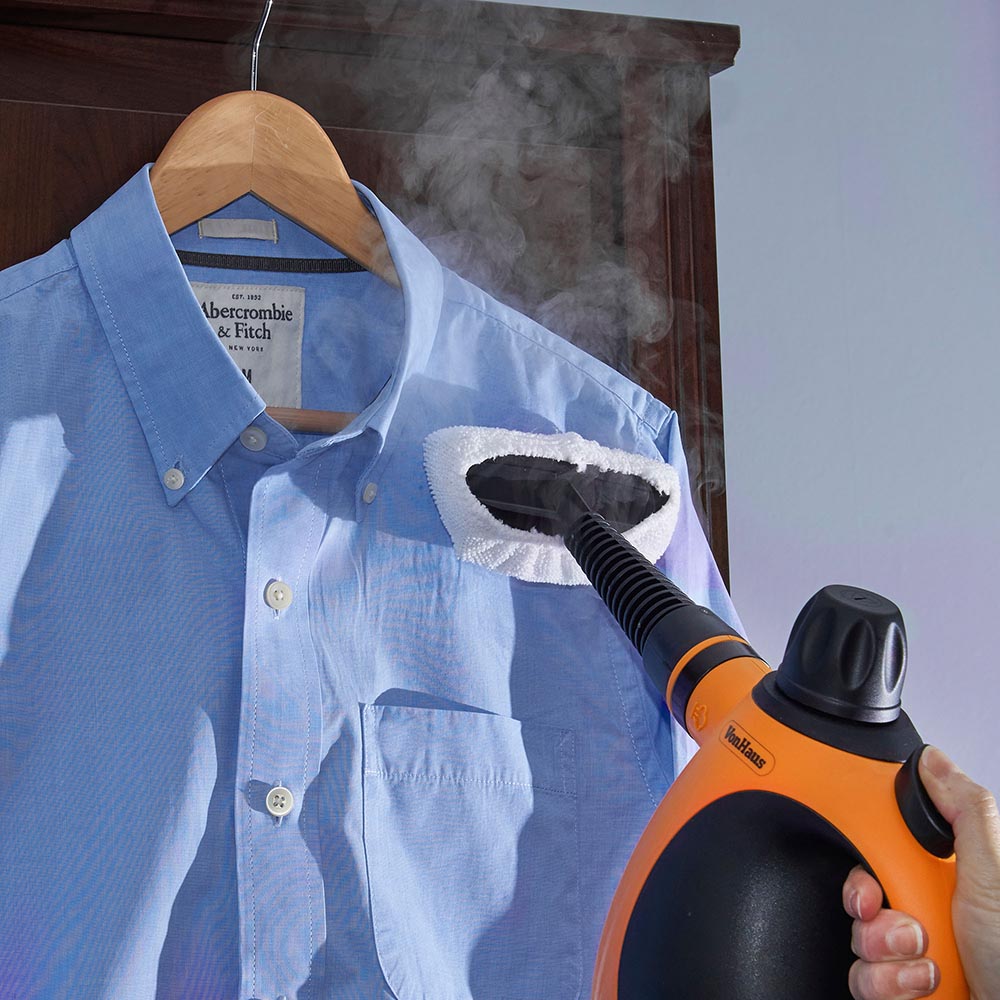 Hand Held Steam Cleaner
---
Steam your way to a spotlessly clean home with the versatile VonHaus Steam Cleaner. This extremely practical multi-purpose cleaner is capable of tackling even the toughest of cleaning and sanitising tasks in and around the home, garage, vehicles, gardens, patios, offices and more! Suitable for removing dirt, dust, grease, grime and general stains/ marks on a huge variety of surfaces. Also provides an effective way to eliminate mould, making it a particularly good choice for asthma and allergy sufferers. Or why not use as a garment steamer to remove wrinkles from clothing?! Practically every room or area can benefit from a little attention from the VonHaus Steam Cleaner! How does it work? The VonHaus Steam Cleaner works by emitting powerful hot pressurised steam for up to eight minutes at a time for 100% chemical-free cleaning and sanitising. Lightweight handheld design weighs just 1.5kg and features a 3 metre long cord for easy mobility. Easy to use - just fill the tank with approx. 250ml water using the measuring cup and funnel provided and away you go! Comes complete with the following attachments: Precision Nozzle: for cleaning taps, tiles, sealed grout, bathtubs, toilets and other bathroom areas/sanitary ware. Can also be used on work surfaces and for hard-to-reach areas. Window & Glass Attachment: for cleaning windows, shower screens, mirrors and glass. Round Brush: for cleaning ovens, hobs, stove tops and BBQ equipment. Can also be used to clean taps, tiles, sealed grout, bathtubs, toilets and other bathroom areas/sanitary ware. Angled Nozzle: for cleaning bathtubs, sinks, toilets and other bathroom areas/ sanitary ware. Mini Mop Attachment with Cloths: for cleaning upholstery, curtains and a variety of other materials. Flexible Extension Hose: for use alongside other attachments to access to hard-to-reach places. Specification Voltage 220-240V Cord Length 3m Working Pressure 105 Max Pressure 3.2 BAR Material: Polypropylene/ ABS Size: 25 x 14 x 23cm SKU: 07-725
Easy to use with 250ml water tank. Lightweight handheld design with 3m long cord for easy mobility. Powerful: 900-1050w
Emits powerful hot pressurised steam for up to eight minutes for 100% chemical-free cleaning and sanitising.
Comes with precision nozzle, window & glass attachment, round brush, angled nozzle, mini mop attachment with cloths and flexible extension hose.
Removes dirt, dust, mould, grease, grime, stains & marks on a huge variety of surfaces.
Powerful multi-purpose steam cleaner - great for use in and around the home, garage, vehicles, gardens, patios, offices & more!